Red River Cranberries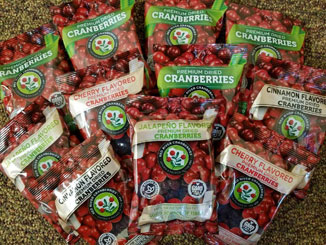 Badger State's Sweetened Red River Cranberries are made from matured and cleaned premium cranberries. The cranberry is sliced, infused in cane sugar, and lightly sprayed with sunflower oil. The process conforms to all provisions of the Food, Drug and Cosmetic Act.
Packaging & Storing
2oz (57g), 4oz (113g) & 6oz (170g) of Red River Cranberries labeling
Private labeling, retail pillow bags and standup pouches available
25lb (11.3kg) bulk lined corrugated cartons
Flavors: Cinnamon, Cherry, Jalapeno, Sweetened and more to come
Product should be stored in cool, dry atmosphere not to exceed 65°F (18°C)
Please inquiry about special orders and sizes
Best buy date 12 months on flavored & 24 months on unflavored when store correctly
Contact: info@gardnercran.com
Purchase from our partners:
Click the logo above to visit their online store.
Madison, WI area visit:
Brennan's Cellars
Madison, WI-Far West
8210 Watts Road
Madison, WI 53719
608-833-2893
Door County Area:
Door County Coffee and Tea Company
5773 Highway 42
Sturgeon Bay, WI 54235
When in Japan Visit your local Liquor Mountain
https://likaman.net/item/927279
Also Vist these Great Wisconsin locations
| | | | | |
| --- | --- | --- | --- | --- |
| SWETZ ROADSIDE | 2133 DIVISION ST | STEVENS POINT | WI | 54481 |
| SWETZ COUNTRY MRT | 3912 HWY P | BLENKER | WI | 54415 |
| NORTHWOODS CONVEN. | 718 ELLINGSON AVE | HAWKINS | WI | 54530 |
| CATAWBA FARM SUPPLY INC | W9149 US HWY 8 | CATAWBA | WI | 54515 |
| TRIG'S SHELL STATION | 232 S COURTNEY ST | RHINELANDER | WI | 54501 |
| TRIG'S 70-WEST CNT SHELL | HWY 70 WEST | MINOCQUA | WI | 54548 |
| TRIG'S SHELL-EAGLE RIVER | 1005 EAST PINE ST | EAGLE RIVER | WI | 54521 |
| TRIG'S MINOCQUA SHELL | 8249 HWY 51 SOUTH | MINOCQUA | WI | 54548 |
| TRIG'S SHELL-STEVENS PT | 1600 ACADEMY AVE | STEVENS POINT | WI | 54481 |
| TRIG'S SHELL - WAUSAU | 110 S 17TH AVE | WAUSAU | WI | 54401 |
| BRANDY LAKE BP | 211 HWY 51 NORTH | ARBOR VITAE | WI | 54568 |
| PANTRY 76 BP | 3700 JACKSON ST | OSHKOSH | WI | 54901 |
| U-PUMP | 1233 VELP AVE. | GREEN BAY | WI | 54303 |
| VILLAGE PIT STOP | 305 5TH STREET | BUTTERNUT | WI | 54512 |
| LOYAL GAS & FOOD LLC. | 521 NORTH MAIN ST | LOYAL | WI | 54446 |
| MARATHON | 608 W KEMP | RHINELANDER | WI | 54501 |
| LEEMAN CORNER MARKET | N9302 HWY 187 | SHIOCTON | WI | 54170 |
| STOP N GO | 1200 PLANK RD | MENASHA | WI | 54952 |
| MARATHON HAZELHURST | 6995 HWY 51 SOUTH | HAZELHURST | WI | 54531 |
| R D MART LLC. | N7425 WINNEBAGO DR | FONDDULAC | WI | 54935 |
| SANDBUR CORNERS LLC | N7503 CTY RD E | OGDENSBURG | WI | 54962 |
| NORTHBOUND TRAIL | N478 WOODDUCK DR | FREMONT | WI | 54940 |
| LOTTER'S LAKEWOOD SHELL | 15236 HWY 32 | LAKEWOOD | WI | 54138 |
| LOTTER'S MERCER BP | 5247 HWY 51 NORTH | MERCER | WI | 54547 |
| BRANDY LAKE BP | 211 HWY 51 NORTH | ARBOR VITAE | WI | 54568 |
| SWETZ ROADSIDE | 2133 DIVISION ST | STEVENS POINT | WI | 54481 |
| SWETZ COUNTRY MARKET | 3912 HWY P | BLENKER | WI | 54415 |
| ABBYLAND TRUCK STOP | 219 PLAZA DR | CURTISS | WI | 54422 |
| STEMPIHAR INC | 117 E LEAD ST | BESSEMER | MI | 49911 |
| ASPIRUS HOSPITAL | 112 E FIFTH AVE | ANTIGO | WI | 54409 |
| DIETZ'S SERVICE, INC. | COUNTY HWY W160 | MANITOWISH W. | WI | 54545 |
| US 2 SERVICE CENTER, INC | 1301 E CLOVERLAND DR | IRONWOOD | MI | 49938 |
| TRI-MART BP FOODSERVICE | W11069 HWY 8 | TRIPOLI | WI | 54564 |
| SANDBUR CORNERS LLC | N7503 CTY RD E | OGDENSBURG | WI | 54962 |
| MONICO SHORT STOP LLC | 1692 HWY 8 | MONICO | WI | 54501 |
| NORTHBOUND TRAIL | N478 WOODDUCK DR | FREMONT | WI | 54940 |
| LIGHTHOUSE CORNER | 1005 CROOKS AVE | KAUKAUNA | WI | 54130 |
| BORUCKI'S COUNTRY STORE | W4904 HWY 64 EAST | ELTON | WI | 54430 |
| MAIN STREET CITGO | 1013 MAIN ST | NEENAH | WI | 54903 |
| D.K. PETROLEUM INC. | 2619 N RICHMOND ST | APPLETON | WI | 54911 |
| PANTRY 76 BP | 3700 JACKSON STREET | OSHKOSH | WI | 54901 |
| SAI KRUPA LLC | 1601 NORTH RICHMOND | APPLETON | WI | 54911 |